05 March 2021
Download press release
PDF
Solid growth and good strategic progress

FY 2020 key highlights:
Improved revenue growth: +3.7% reported growth and +4.0% on a constant currency2
Attractive diversified portfolio providing resilience during the pandemic.

FY20 performance driven by strong growth in Infusion Care and Continence & Critical Care offsetting limited growth in Ostomy Care and decline in Advanced Wound Care.
Q4 revenue performance reflected the impact of the latest COVID-19 resurgence late in the year. This was driven primarily by better than expected revenues in Continence & Critical Care.

Continued investment for growth: Adjusted1 EBIT margin of 18.5% (2019: 19.4%) in line with the latest guidance.
Strong adjusted free cash flow1: $347 million (2019: $397 million) and adjusted cash conversion1 of 90% (2019: 98%).
Strengthened balance sheet: Reduction in leverage to 2.0x Net Debt/Adjusted EBITDA1 (2019: 2.5x).
Proposed dividend of 3.983 cents to take FY dividend to 5.7 cents, in line with prior year.
Good operational and strategic progress as we pivot to sustainable and profitable growth:
Effective response to COVID-19 – safeguarding the health and wellbeing of our people, addressing customer needs and strengthening our supply chain.
Further positive operational progress – adjusted gross margin1 increased from 59.0% to 59.5% or $1,127 million.
Continued to make good progress with our FISBE (Focus, Innovate, Simplify, Build, Execute) strategy. Achievements in the year include:

Strengthening the leadership team; embedding the new operating model; increasing investment in R&D to 4.3% of revenue (2019: 2.9%); establishing Centres of Excellence; setting up a Global Business Services centre and disposal of the US Skincare product line.

Certain transformation initiatives were proactively re-phased given the COVID-19 backdrop - we spent $93 million on strategic operational investments in 2020. We remain on track to deliver $130-$150 million of gross benefits in 2021.
Positive outlook: We expect to see 2021 organic4 revenue growth of between 3-4.5% and a constant currency adjusted EBIT margin of 18-19.5%.
Karim Bitar, Chief Executive Officer, commented:
"I am pleased with our strategic progress and how the business performed in 2020. Against the backdrop of COVID-19 we set our new strategic direction of travel, responded well to the needs of our customers and improved our operational performance. In addition our ongoing strategic transformation remains firmly on track.
"The outlook for 2021 is positive although uncertainty surrounding COVID-19 persists. We expect to see 2021 organic4 revenue growth of between 3-4.5% and a constant currency adjusted EBIT margin of 18-19.5% as we continue to invest in our transformation, some of which was deferred from 2020, and as COVID-suppressed costs begin to normalise.
"There is still further work ahead for the Group as we continue to strengthen our foundations and begin to pivot to sustainable and profitable growth, but I am confident in the inherent attractiveness of the markets we serve and in Convatec's growth prospects."
Group revenue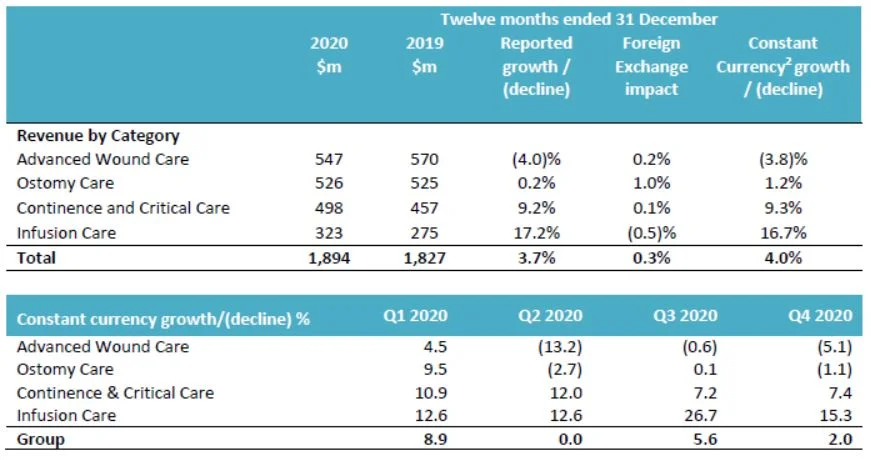 For insight into the category performances see pages 5 to 7.
(...)
Download the full text of this announcement
PDF
| | |
| --- | --- |
| Analysts and Investors | ir@convatec.com |
| Kate Postans: Vice President of Investor Relations & Corporate Communications | +44 (0)7826 447807 |
| | |
| Media | |
| Buchanan: Charles Ryland / Chris Lane | +44 (0)207 466 5000 |
Press Release
See all