100 million lives touched as Convatec marks 25 years of AQUACEL®
$250,000 pledge to support wound medical education initiative with Welsh Wound Innovation Centre
22 November 2021: Convatec Group Plc, [CTEC:LON], marks 25 years of market leading innovation in wound care with its flagship brand and dressing AQUACEL® and proprietary Hydrofiber® Technology. Over the last 25 years more than 1.25 billion AQUACEL dressings have been sold in over 90 countries around the world, relied upon by healthcare professionals and an estimated 100 million patients to support their healing journey.
To help mark this milestone, Convatec is recognising the critical role of healthcare professionals who successfully treat and support patients with their wound care needs with a new pledge to fund medical education initiatives. As part of Convatec's established responsible business programme, the company will donate $250,000 USD towards medical education grants for wound care courses benefiting 250 students from around the world, as part of a new flagship partnership with the Welsh Wound Innovation Centre (WWIC).
David Shepherd, President & Chief Operating Officer, Global Advanced Wound Care, at Convatec, said:
"Our vision of pioneering trusted medical solutions to improve the lives we touch is underlined as we mark supporting 100 million patients with the use of AQUACEL dressings. We take this opportunity to thank our patients and customers for their trust in us and our products. We are delighted to launch this programme with Welsh Wound Innovation Centre to invest in nurses and allied healthcare professionals."
Professor Keith Harding CBE, FRCGP, FRCP, FRCS, FLSW, Professor of Wound Healing Research at Cardiff University and Medical Director of the Welsh Wound Innovation Centre (WWIC), said:
"The success of Convatec as a major provider of effective and innovative wound care products is known globally. The contribution that Convatec and WWIC make to the economy of Wales is not so well recognised. This exciting new programme, made possible by Convatec's foresight and generosity, will strengthen the partnership with WWIC and enable us to provide education on wound healing to health care professionals across the world. It will make a real difference to improving the care patients with wounds receive."
Education represents one pillar of Convatec's community investment strategy, which is part of our broader Environmental, Social and Governance ambition. The partnership demonstrates our commitment to improving lives through our products as well as the way in which we operate.
AQUACEL dressing product information – on the side of patients for 25 years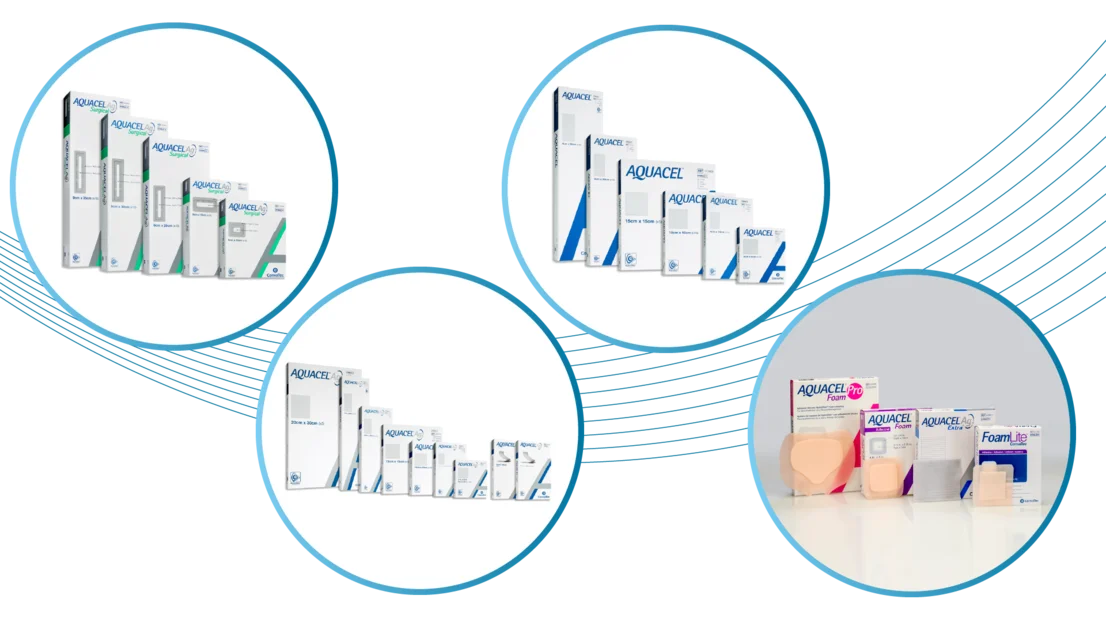 AQUACEL dressings, enabled by our Hydrofiber Technology, transforms into a gel on contact with wound fluid, creating an optimal environment for wound healing. Today, the AQUACEL® family includes a wide range of wound dressings, including AQUACEL® Extra™, AQUACEL® Foam, AQUACEL® Surgical and AQUACEL® Ag+ Extra: the antimicrobial dressing designed to disrupt and destroy biofilm.
Follow more about the campaign on social media #AQUACELwithyou #AQUACELturns25

Notes to Editors
Convatec Group Plc
Convatec is a FTSE 250 global medical products and technologies company focused on solutions for the management of chronic conditions, with leading market positions in advanced wound care, ostomy care, continence and critical care, and infusion care. We have more than 10,000 colleagues and operate in almost 100 countries. Our vision is pioneering trusted medical solutions to improve the lives we touch. Our products provide a range of clinical and economic benefits including infection prevention, protection of at-risk skin, improved patient outcomes and reduced total cost of care. Group revenues in 2020 were over $1.894 billion. To learn more about Convatec, please visit www.convatecgroup.com
Welsh Wound Innovation Centre (WWIC)
WWIC is the first national wound healing centre in the world and is the flagship facility for clinical innovation in Wales. WWIC is a not-for-profit company limited by guarantee. Its members include Cardiff University, Swansea University, Cardiff Metropolitan University, Cardiff and Vale University Health Board and Cwm Taf Morgannwg University Health Board. It works in partnership with private, public and not for profit organisations to improve health outcomes for patients. Education and training forms a significant part of its work. To learn more about WWIC, please visit www.wwic.wales
Convatec in Wales, UK
Convatec has operated in Wales since 1982, initially at Deeside, then at Rhymney since 1995. We expanded to a second site in Deeside in 1988, previously as part of the Wound Healing Research Institute. Our operations bring more than 800 jobs to Wales across the three locations.
Convatec funded programme
Foundation programme in wound healing, assessment and management
The fully virtual programme has been specially designed by the WWIC to offer independent, objective, unbiased and medical education in the field of advanced wound care for health care professionals (HCPs). The content will cover four core specific subject areas:
• Wound assessment, management and healing
• Pressure ulcers/injuries
• Hard-to-heal wounds
• Venous leg ulcers
The courses will be hosted throughout 2022 and delivered by an experienced WWIC team drawn from across medical, commercial, clinical and education directors, senior tissue viability nurses, podiatrists and other academic colleagues. It is anticipated that the global educational programme will help build a strong legacy for those HCPs who take part as well as delivering multiple benefits to patients and clinical communities.
Press Release
See all